7 Habits of Highly Effective People, leadership workshop for Principals
Posted: 13 June 2022
Notice reference #: 1HAUf2
Who is this workshop for?
A two-day workshop designed exclusively for principals and senior leaders, this small-group event will give you an opportunity to experience the workshop lessons and reflections alongside people who genuinely understand and empathise with the challenges and demands of leading a school.
"I have been so grateful for the opportunity to take part in this workshop as it has definitely shaped my pathway going forward''
This workshop provides an ideal opportunity for you to reflect, recharge and refocus. You will leave with a greater sense of how you can manage your energy throughout the year so you accomplish what you need to, whilst finishing the year healthy, balanced and with perspective for where you are going in the future.
"I've absolutely loved the last couple of days - learnt heaps and feel refreshed and re-energised to get back in the leadership game"
What this workshop includes:
Supported by an exclusive special edition resource pack, this 2-day experience starts with a pre-course 360° Franklin Covey leadership assessment.
Over the course of the two days you will explore how the 7 habits will help you:
Identify how you will continually improve your personal effectiveness

Improve your ability to juggle key priorities each week

Improve interpersonal communication so you get better outcomes

Improve how role model personal responsibility and accountability

Develop a personal mission and vision which support the values of your school

Discover how to apply these timeless principles so you can achieve a more balanced life

Balance courage and consideration so you can better apply the 7 habits in your daily work
* Special edition resource pack includes participant guide, Habit-Summary Cards, Practice Cards, Skill Cards, Big Rocks tool, and the 7 Habits 7 X 7 Contract
Small group guaranteed - workshop limited to 14 participants
Register here: learningarchitects.com/events
Events summary
27 October 2022 – 28 October 2022
Related categories
Popular Categories
Sectors
Similar professional development notices
Leading by Learning
Auckland

31 August 2022 – 01 September 2022

Canterbury

26 October 2022 – 27 October 2022
Safeguarding & Child Protection–Seminar–Christchurch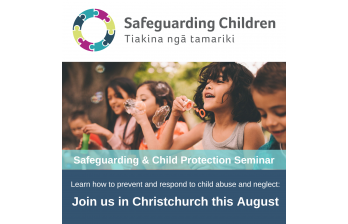 Canterbury

29 August 2022 – 29 August 2022
Tā te Manawa
Māori? Working for your people? Getting burnt out?
Come along to a nurturing weekend retreat in peaceful Whakaroa and be restored and revitalised through engaging wānanga, sumptuous kai and warm company.

Tā te Manawa is a retreat for Māori leaders to come together and replenish their hauora through wānanga designed to nurture mind, body and spirit through connection to taiao, our cultural heritage and each other as people.

Aimed at Māori working in any field who have a commitment to empowering our people, the retreat welcomes anyone who is taking on the challenge of making a difference in our communities.

Canterbury

29 July 2022 – 31 July 2022

Canterbury

16 September 2022 – 18 September 2022

Canterbury

25 November 2022 – 27 November 2022