Teaching Maths for Mastery
Posted: 23 May 2022
Notice reference #: 1HAULk
If you want to learn a consistent 3-part lesson structure that allows for exploration, explicit teaching and practice, how to meet the needs of all learners while teaching whole class, and learn what decades of research looks like as effective practice in the classroom - this one-day course is for you.
Discover how this inclusive approach gives students time to think deeply about the maths, problem solve and understand maths in context.
The method of teaching maths for mastery is a proven approach that boosts teaching confidence, subject knowledge, and significantly reduces the time teachers spend planning with a framework of resources.
And the best part? Everyone can benefit from this course. There is a growing number of schools in Aotearoa New Zealand implementing mastery, join us and discover maths for mastery for your school.
Over a few hours you'll learn
How to foster problem-solving and critical thinking skills in your classroom
Why mathematical concepts need to be understood both procedurally and relationally
The forward-thinking strategies of the top performing countries on the TIMSS scale, including visualisation, bar modelling, and the Concrete, Pictorial, Abstract approach (CPA)
The order to teach mathematical concepts in and how to structure a unit of lessons to teach any mathematical concept
How to develop metacognition in your learners
Skills to support your struggling learners and challenge your advanced learners
How to structure an effective three-part lesson
How to take the uncertainty out of maths teaching and build your confidence
Practical teaching techniques you can use in your class the next day!
Events summary
20 July 2022 – 20 July 2022
21 July 2022 – 21 July 2022
Related categories
Popular Categories
Learning Areas
Similar professional development notices
Safeguarding & Child Protection–Seminar–Christchurch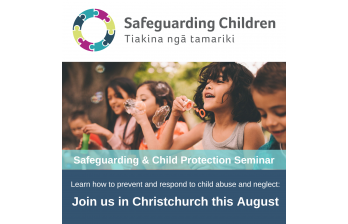 Canterbury

29 August 2022 – 29 August 2022
Safeguarding & Child Protection–Seminar–South Auckland
Safeguarding Children, Safeguarding & Child Protection, Recognising and Responding to Child Abuse and Neglect, Disclosures, Information Sharing, Child protection training, Child Protection Leads, Grooming, Child-safe Organisations, Child Protection Leads in Play, Active Recreation and Sport, Child protection Policy, Code of Conduct, eLearning, Webinar, Seminar
Auckland

08 August 2022 – 08 August 2022