Diversity and Achievement Supporting Assessment Practices Workshop
Posted: 18 May 2022
Notice reference #: 1HAUH9
Effective innovations in assessments practices are responsive to diverse students and enhance student achievements. Students are diverse in terms of, for example gender, age, ethnicity, culture, sexuality, socio economic background, ability, religion and life aspirations.
This workshop is designed to provide practical support to teachers creating and developing assessment materials and practices to meet current student and end user needs.
The workshop will review: key assessment methods, the diverse capabilities we may wish to assess and teaching practices that may support and challenge diversity and achievement recognising assessment. Critical practices such as Hattie's Visible Learning and SMART feedback and feed forward will also be examined in the light of future societal and workplace needs. This workshop will have value for the experienced and those new to diversity and achievement supporting assessment design and practices.
Events summary
24 June 2022 – 24 June 2022
26 August 2022 – 26 August 2022
28 October 2022 – 28 October 2022
Further information
Contact: Maya Gurung
(07) 834 0451
Related categories
Sectors
Similar professional development notices
Online Neurodiversity Training by Mind Over Manner
New Zealand (nationwide)

11 August 2022 – 06 October 2022
Safeguarding & Child Protection–Seminar–Christchurch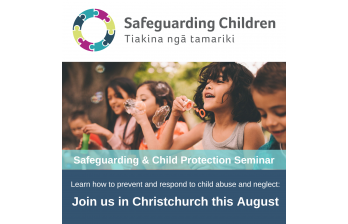 Canterbury

29 August 2022 – 29 August 2022
Safeguarding & Child Protection–Seminar–South Auckland
Safeguarding Children, Safeguarding & Child Protection, Recognising and Responding to Child Abuse and Neglect, Disclosures, Information Sharing, Child protection training, Child Protection Leads, Grooming, Child-safe Organisations, Child Protection Leads in Play, Active Recreation and Sport, Child protection Policy, Code of Conduct, eLearning, Webinar, Seminar
Auckland

08 August 2022 – 08 August 2022