LEGO ®-Based Therapy
Posted: 17 May 2022
Notice reference #: 1HAUEh
Lego-Based Therapy is a social development intervention programme originally designed for individuals with Autism by Dr D Legoff. It is based on the idea of "constructive application" (Attwood, 1998, p.96) and promotes the development of individuals social, emotional, communication and play skills. LEGO® is used as a therapy tool in a structured and comprehensive way through collaborative play therapy in which children work together to create LEGO® models.
The therapy uses LEGO® construction to encourage verbal and non-verbal communication and social development, such as joint attention, sharing, turn taking and following social rules. The approach develops collaborative problem-solving and cooperative building with a group of peers. This includes individuals who do not have a social skill deficit.
Kerie draws upon over 12 years' experience of working with neurodiverse children and young adults. With a Masters degree in Autism and special needs (LEGO® -based therapy) she has worked in educational and residential settings redefining and adapting the programme to suit the needs of her clients. With over 15 years in education she has used LEGO® to assist students in accessing the curriculum and enhancing their achievement.
From the workshop participants will gain:
An understanding of how to implement LEGO® -based therapy
Awareness of the evidence to support its effectiveness in developing social skills.
Guidance on delivery and setting up effective groups.
Guidance on effective monitoring / data collection.
How to individualise LEGO® for your learners.
How to integrate LEGO® in your classroom.
To book a workshop or to book LEGO® - based therapy sessions please use the contact details provided.
Events summary
16 May 2022 – 19 August 2023
Further information
Contact: Kerie Richardson
(021) 559 363
Related categories
Popular Categories
Sectors
Similar professional development notices
Safeguarding & Child Protection–Seminar–Christchurch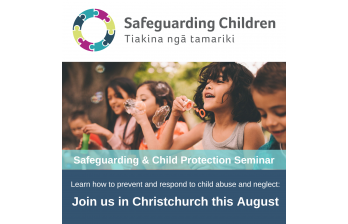 Canterbury

29 August 2022 – 29 August 2022
Safeguarding & Child Protection–Seminar–South Auckland
Safeguarding Children, Safeguarding & Child Protection, Recognising and Responding to Child Abuse and Neglect, Disclosures, Information Sharing, Child protection training, Child Protection Leads, Grooming, Child-safe Organisations, Child Protection Leads in Play, Active Recreation and Sport, Child protection Policy, Code of Conduct, eLearning, Webinar, Seminar
Auckland

08 August 2022 – 08 August 2022