Developing a deeper understanding of Te Whāriki - Webinar series
Posted: 09 May 2022
Notice reference #: 1HAU3u
While closely related, the English and Māori meanings of the five Te Whāriki strands have different cultural connotations – they're not the same.
This five-part webinar series looks at traditional and present-day Māori concepts that relate to each strand, and how kaiako can apply this kaupapa every day in early childhood services.
For early childhood kaiako of all levels, the webinars offer deeper understanding, practical exemplars of mokupuna in ECE services, and community perspectives.
You'll get access to online resources such as pūrākau, waiata and further information as you go through the webinars.
Webinar 1 - Mana Whenua: te ao Māori view of being and belonging to people, places and the environment.
Webinar 2 - Mana Tangata: the mana of people, the role of whakapapa in affirming tamariki as individuals.
Webinar 3 - Mana Reo: communication with an overview of mana reo and te reo Māori and exemplars of mana reo in practice.
Webinar 4 - Mana Autūroa: exploring, learning about and being active in the environment, kaitiakitanga and sustainability.
Webinar 5 - Mana Atua: wellbeing, protecting and nurturing our tamariki.
Each webinar takes approximately 45mins to an hour to complete.
Members $35 Non-members $80.
Events summary
05 May 2022 – 14 July 2022
Related categories
Popular Categories
Similar professional development notices
Safeguarding & Child Protection–Seminar–Christchurch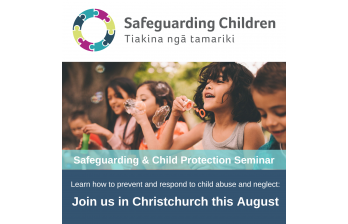 Canterbury

29 August 2022 – 29 August 2022
Safeguarding & Child Protection–Seminar–South Auckland
Safeguarding Children, Safeguarding & Child Protection, Recognising and Responding to Child Abuse and Neglect, Disclosures, Information Sharing, Child protection training, Child Protection Leads, Grooming, Child-safe Organisations, Child Protection Leads in Play, Active Recreation and Sport, Child protection Policy, Code of Conduct, eLearning, Webinar, Seminar
Auckland

08 August 2022 – 08 August 2022