Optimum Infant and Toddler Environments | Tamariki kōhungahunga I te taiao
Posted: 09 May 2022
Notice reference #: 1HAU3t
What makes an optimum infant and toddler environment?
The most important aspect of an optimum learning environment is responsive adults. However the structural, dynamic and cultural factors of an environment are the elements that lift it from okay to optimal.
In this webinar we look at how to provide optimum learning environments for tamariki aged 3 months to 3 years.
Time to complete: 1 hour
Members: $35 Non-members: $50.
Events summary
05 May 2022 – 14 July 2022
Related categories
Similar professional development notices
Safeguarding & Child Protection–Seminar–Christchurch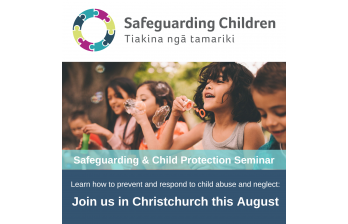 Canterbury

29 August 2022 – 29 August 2022
Safeguarding & Child Protection–Seminar–South Auckland
Safeguarding Children, Safeguarding & Child Protection, Recognising and Responding to Child Abuse and Neglect, Disclosures, Information Sharing, Child protection training, Child Protection Leads, Grooming, Child-safe Organisations, Child Protection Leads in Play, Active Recreation and Sport, Child protection Policy, Code of Conduct, eLearning, Webinar, Seminar
Auckland

08 August 2022 – 08 August 2022