Observing and Responding to Play with Learning Stories
Posted: 04 May 2022
Notice reference #: 1HAU0t
3-Part Webinar Series
By Dr Sarah Aiono, Longworth Education, New Zealand
Dr. Sarah Aiono shares ways to use the observations made and subsequent Learning Stories constructed as children play, to intentionally respond in ways that assist your children to develop their learning dispositions, knowledge, and skills in your school or centre setting.
Times in New Zealand - 10am NZT on May 6, June 3 and July 1
visit LearningStoryAcademy.com to register
Part 1: Using Observation to Guide Intentional Teaching
Learn about observing play and using Learning Stories to develop an intentional teaching response.
Part 2: Finding Math Concepts & Language
Unpacking the Notice, Recognise and Respond approach and how the use of Learning Stories can guide the thinking a teacher engages in to deliberately support children's learning.
Part 3: Learning Dispositions and Socio-Emotional Skills
Focus on ways teachers can draw on Learning Stories to intentionally support the development of key socio-emotional skills and learning dispositions within play-based environments.
Events summary
06 May 2022 – 06 May 2022
03 June 2022 – 03 June 2022
01 July 2022 – 01 July 2022
Related categories
Similar professional development notices
Online Neurodiversity Training by Mind Over Manner
New Zealand (nationwide)

11 August 2022 – 06 October 2022
Safeguarding & Child Protection–Seminar–Christchurch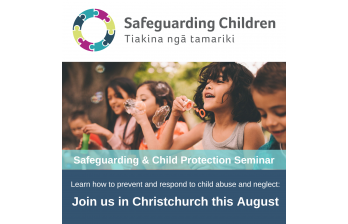 Canterbury

29 August 2022 – 29 August 2022
Safeguarding & Child Protection–Seminar–South Auckland
Safeguarding Children, Safeguarding & Child Protection, Recognising and Responding to Child Abuse and Neglect, Disclosures, Information Sharing, Child protection training, Child Protection Leads, Grooming, Child-safe Organisations, Child Protection Leads in Play, Active Recreation and Sport, Child protection Policy, Code of Conduct, eLearning, Webinar, Seminar
Auckland

08 August 2022 – 08 August 2022